Roof Cleaning West Drayton
Why Us for Roof Cleaning West Drayton
DW Maintenance & Exterior Cleaning is an Approved Contractor, which means we can be trusted and guaranteed to do an excellent job of Roof Cleaning in West Drayton and the surrounding areas.
We gained this highly sought-after approval in our trade as our small team has years of experience, developed an exemplary reputation, is fully trained and fully insured in roof and gutter cleaning services.
Furthermore, we come highly recommended by locals for domestic and commercial cleaning, as evident by our remarkable 5-star reviews on our Google Business Profile, Checkatrade, and Trust a Trader.
Above all, we offer a free quotation for exceptional value for money with no obligation to go ahead with any of our cleaning services, including roof cleaning. In addition, business owners, building managers and homeowners who request a bundle of services will benefit from discounted services.
Our Roof Cleaning West Drayton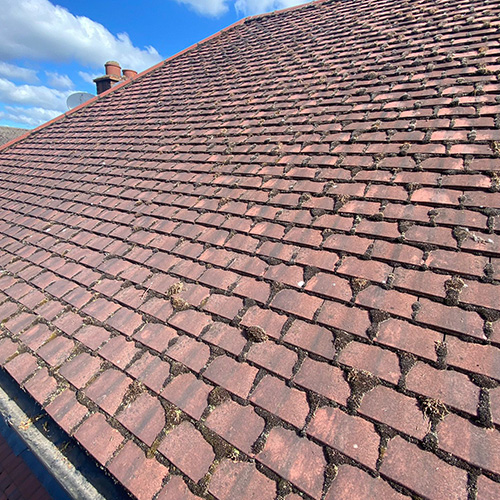 Do You Need Roof Cleaning in West Drayton?
Moss grows without sunlight and spreads across roof tiles as they break apart and feed on rainwater.
It's no surprise that the weather in West Drayton, or anywhere in the United Kingdom for this matter, has short summers that are mostly cloudy. In addition, we experience very long, cold and windy winters.
These are prime conditions for moss and algae to spread across your roof, damaging your property's curb appeal and preparing you for a costly expense if left to prosper.
Most commonly algae, roof tiles change colour, and typically turn black as algae feed on rainwater. Roofs in West Drayton experience an average of two days of rainfall per month, but some months like January, February and October with as many as 5 and 6 days.
How Our Roofing Cleaning in West Drayton is Different?
Commercial Pressure Washing System
Our professional cleaners are trained to use various pressure washing systems for the purpose of cleaning your roof thoroughly and protecting it from re-growth any time soon.
Discounted Gutter Cleaning on Every Job
Removing moss from any roof, including flat roofs, is often collected in the gutters. We wouldn't want to leave you with blocked gutters and the risk of water damage, so we discount it when we clean roofs of moss.
With commercial pressure washers combined with commercials, your roof will shine like new. It'll drastically improve the curb appeal.
Contact us to arrange a free no obligation quotation.
If you need your roof cleaned for your domestic or commercial property, please get in touch to request a free, obligation quote. Call us on 07500 339486 or email dw_maintenance@outlook.com.
Gutter Cleaning West Drayton
Driveway Cleaning West Drayton
Window Cleaning West Drayton
Roof Cleaning West Drayton
Arrange a free quotation
+44 7500 339486
dw_maintenance@outlook.com